What is Balloon Sinus Dilation?
Balloon Sinus Dilation is an FDA approved, minimally invasive technique that gently opens blocked sinus passageways with a thin, flexible balloon. When the sinus balloon is inflated, it gently restructures and widens the walls of the sinus passageway while maintaining the integrity of the sinus lining. Balloon sinus dilation is a very comfortable procedure that can be performed in the office under local anesthesia.
Who is a candidate for Balloon Sinus Dilation?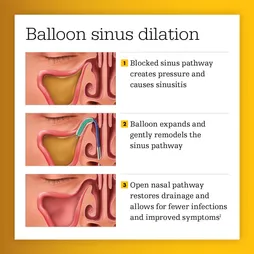 If you suffer from chronic sinus infections, facial pain or pressure, or constant congestion you may benefit from this procedure. Balloon Sinus Dilation can also be combined with other procedures to obtain the best results.
How does Balloon Sinus Dilation work?
STEP 1 – Local and topical anesthesia is used to numb the sinus area and ensure patient comfort.
STEP 2 – A tiny catheter is inserted into the nose and then into the sinus opening of the narrowed or blocked sinus passage.
STEP 3 –Once inside the sinus opening, a small balloon is dilated (or inflated) for a few seconds. This gently remodels the sinus pathway, restoring proper drainage.
STEP 4 – The balloon and catheter is removed.
Watch our procedure animation to learn more